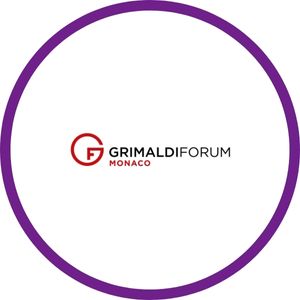 GrimaldiForum Monaco
---
The Grimaldi Forum Monaco, 20 years of creation in an exceptional setting.
Recognisable by its spectacular glass-and-steel design, the Principality of Monaco's congress and cultural centre offers a modular surface area of 70,000 m2 reclaimed from the sea for the organisation of conferences, congresses, tradeshows, exhibitions, concerts and shows. It hosts an average of 100 events and 250,000 visitors every year. Praised for the quality of its spaces and the expertise of its teams, this unique site has been able to attract and retain numerous international events since its creation in 2000.
After five years of consistent growth, 2019 broke all records for the Grimaldi Forum with a 20% increase in its turnover compared to 2018, and with only ten days of in-occupancy for the whole year!
In 2020, it adapted to the health and safety challenges and received the national "Monaco Safe" label. It also optimised its hybrid events offer by including collection, dissemination and branding services, as well as solutions for storing and downloading content, and statistical studies to measure the impact of these hybrid events which can be of all types (congresses, conferences, seminars, exhibitions, etc.).
So what is new? The Grimaldi Forum now has a 600 m2 terrace with a view over the Mediterranean Sea. Situated on the side of the building facing the sea, and opening onto the promenade running alongside it, this terrace is the ideal place for setting up dedicated lounge and networking spaces or for organising outdoor finger buffets and cocktails for up to 800 people standing.
As for current projects, from 2025 onwards the Grimaldi Forum Monaco will benefit from the Principality of Monaco's ambitious offshore extension project, meaning it will be able to increase its exhibition area by an additional 50%, or 6,000 square metres!
The Monaco congress and cultural centre reaffirms its positioning as a unique event venue in an exceptional location with an ever more competitive MICE (Meetings, Incentives, Conferences & Exhibitions) offer proposed in conjunction with its partners (the Monaco Convention Bureau and the main hotels). Customer service remains a priority; the creativity of its teams and the modularity of its spaces are among the most appreciated of its assets, as is its commitment to the environment, established as a key element of its corporate strategy since receiving ISO 14001 certification in 2008. The 2,500 m² of photovoltaic panels installed in 2019 on the roof of its building, as well as using 100% renewable energy, now consolidate its position as a pioneer committed to conservation by constant improvement of its environmental performance.
---